Ferries
It is easy to reach the island of Elba from the mainland throughout the year. Numerous ferries connect the port of Piombino on the mainland to Portoferraio on the island. The journey lasts around 60 minutes.
The route is served by 4 main ferry companies: Moby – Toremar – Blu Navy –Corsica Ferries. The first ferry leaves around 6 am and the last ferry across leaves around 10,30 pm with multiple departures during the day including a hydrofoil service for those of you travelling without a car.

We are very pleased to inform you that thanks to a special accord with Blu Navy Ferries we can guarantee very competitive prices for you. Discounts vary according to the season from 20 % to 50% of the price that you will see online. You will receive a special coupon by email with a discount code and instructions on how to book online.
We always advise to book well ahead if you will be travelling at the week-end or in high season. The coupon is only valid if you book beforehand via internet. It cannot be used at the company ticket office.
If you are travelling without a car you may also take the hydrofoil which connects Piombino to Portoferraio in only 40 minutes.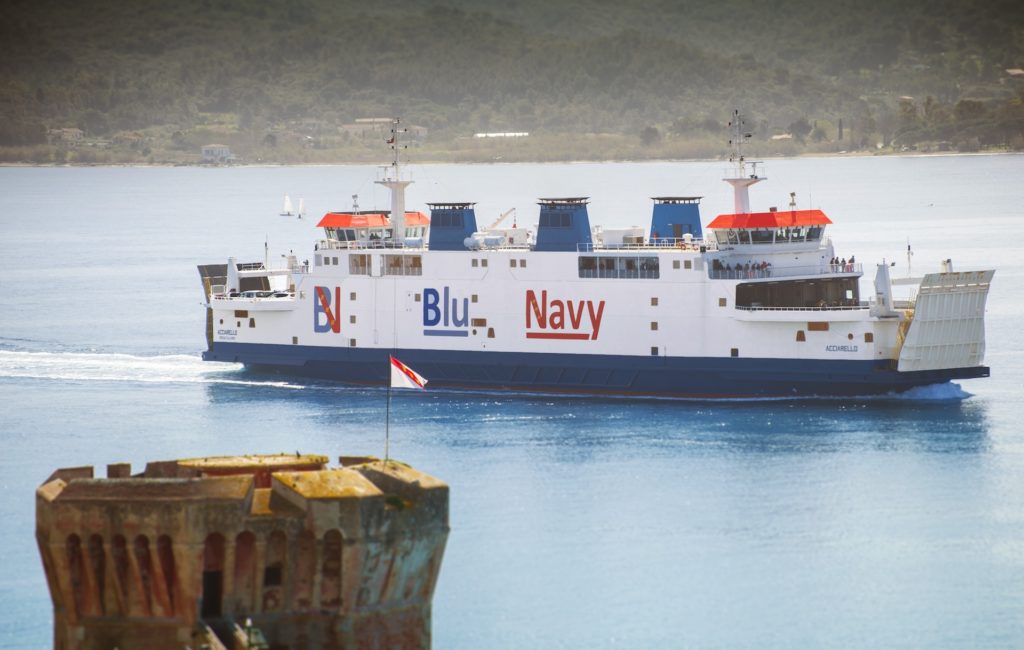 Once you are on the island…
Once you have disembarked as you leave the harbour area in Portoferraio you must follow indications "TUTTE LE DIREZIONI". Continue on the 2 lane road which takes you out of Portoferraio and follow for PROCCHIO –MARINA DI CAMPO.
Once you reach Procchio, turn left and follow for MARINA DI CAMPO.
Once you have passed the airstrip at La Pila follow directions for "Centro" at the main roundabout. About 350mt after the petrol station on the right hand side you will find our reception. Please stop briefly on the side of the road and come into reception. We will check your booking and show you how to park close to your room or apartment in order to unload your luggage. Once you have finished with your luggage we will show you our own private car park.
How to reach the Island of Elba by car…
FROM THE NORTH OF ITALY
From Milan autostrada A1 (Autostrada del Sole) enter A15 at Parma Ovest sulla A15 (autocamionale della Cisa), Once you are on the A12 Genova-Livorno, leave the motorway at "Isola d'Elba" and continue on S.S. Aurelia (direction Roma) until Venturina – Isola d'Elba. From here on follow for PORTO – Isola d'Elba until you reach the harbour of Piombino Marittima.
FROM THE NORTH-EAST
At Bologna join the motorway A1 in direction of Firenze and once you arrive at Florence follow indications for Pisa – Livorno. Once you have passed Livorno follow until you find directions for Isola d'Elba. Exit here and follow on to Piombino Porto. Once you are in the harbour area follow for Partenze Isola d'Elba on the porto of Piombino Marittima.
FROM SUD
Motorway A12 Roma-Grosseto: S.S.1 Aurelia exit at Venturina – Isola d' Elba and follow indications for (PORTO – imbarchi Isola d'Elba) until you reach the harbour of Piombino Marittima.
How to reach the island of Elba by train
The main train station for reaching the port is Piombino Marittima. The station is directly on the harbour around 200 m from the ferry companies.
For train timetables and bookings please look up www.ferroviedellostato.it or Trainline for bus and train connections in Europe.
Once you arrive on the island of Elba in the harbour area of Portoferraio you will find a taxi rank. Taxi 0565-915112, or if you wish to come by bus:CTT – Compagnia Toscana Trasporti 0565.914392 . You should buy your ticket before boarding the bus.
How to reach the island of Elba by aeroplane
In Marina di Campo you will find the islands airport. The main company SILVER AIR offers flights to Pisa, Florence and Milan Linate and Lugano, and SKYWORK from Bern and Zurich.
For more information please look at the airport website: www.elbaisland-airport.it.